Hey Chuck Hughes, here…
Congratulations! You're on the path to joining Chuck Hughes' Weekly Profit Opportunities.
That means you are just moments away from getting access to my next 7-day snowball trade… before the big move.
Remember, I can only accept 250 people who want to join us today
So, if you want to take advantage of my groundbreaking "7-day snowball" trading strategy…
And get the chance to start snowballing these profit opportunities every 7 days… week after week…
And you want to get in a this extremely low price of $1,995 for 1 year… (Saving more than $1,000 off the retail price)…
Then you'll want to secure your special membership to Weekly Profit Opportunities service right now.
Just to recap…
Here's everything you'll get if you respond BEFORE midnight tonight: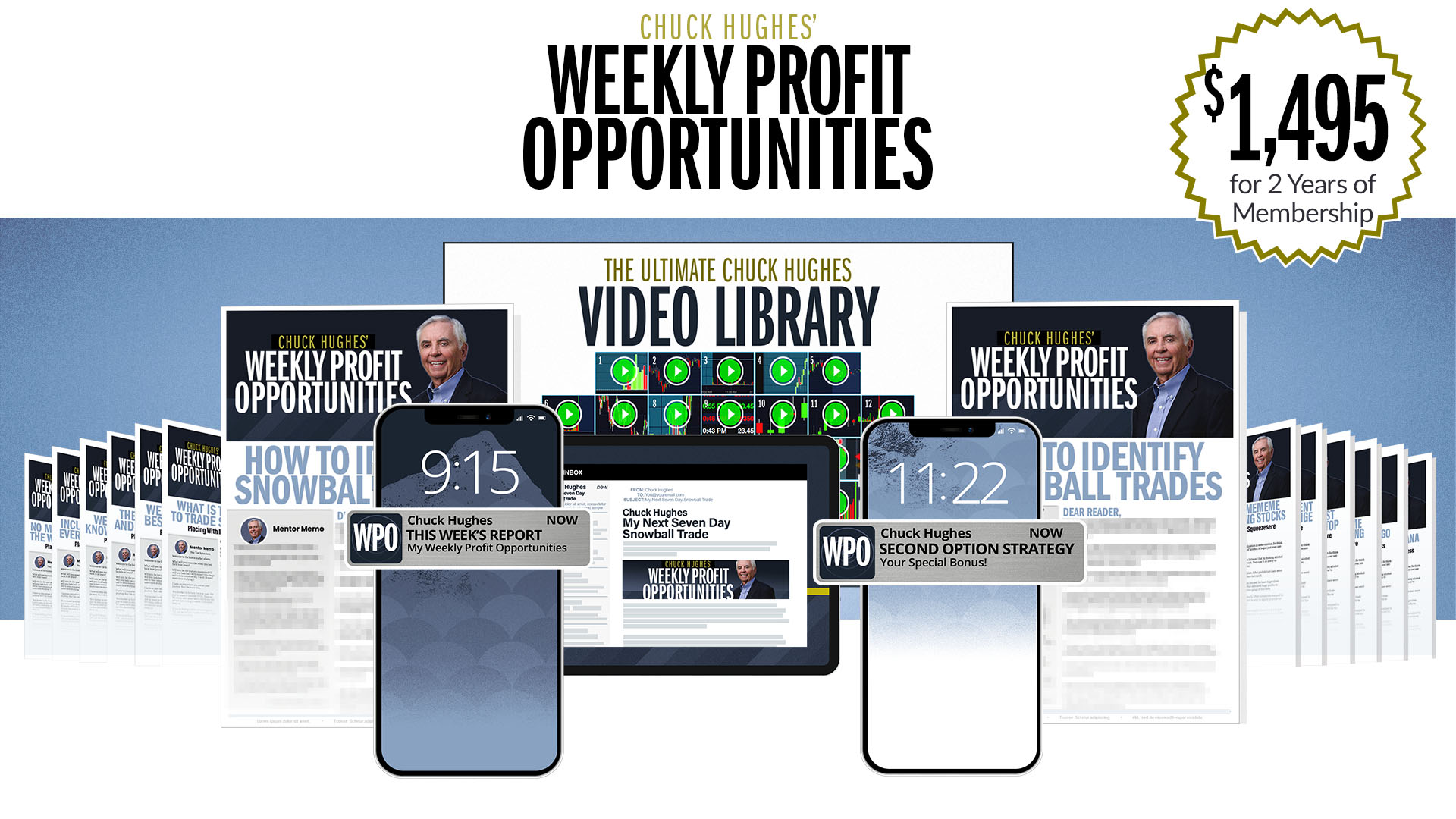 At least 104 "7-Day Snowball" Trading Opportunities Over 2 Years

You're looking at a bare minimum of at least one trade idea per week. That's 52 for the whole year. And including your FREE bonus second year, you're talking about at least 104. But you'll probably get way more than that. That's because I want you to have plenty of chances to make these 7-day snowball trades week after week.

Email With the Subject Line: My Next 7-Day Snowball Trade

It will give you instructions to make sure you can participate in my next 7-day snowball trade. I can't wait for you to see how exciting it can be to snowball the same profit opportunities every 7 days… week after week.

The Ultimate Chuck Hughes Video Library

You'll get access to 29 different training videos that explain everything about my strategy. You'll get to see how I use Keltner channels… how I build the perfect buy list… how I use what I call my 1% rule…and so much more. This is like getting access to my personal vault of training content.

24 Months of Access to My Bonus Strategy

I've developed this exclusive second strategy specifically for taking advantage of market volatility. When paired with our 7-Day Snowball Trades, it can increase any potential profits exponentially. You'll get access to this strategy too for TWO full years and that will come with your Weekly Profit Opportunities membership.
Remember, because of this extremely limited opportunity…
I can only accept 250 people who want to join us today.
After we reach that limit, I'm sorry, but I have to shut this down.
I realize with such limited spots, it's a guarantee that plenty of people will miss out.
So, I urge you not to take this opportunity lightly.
My most dedicated followers have already had the chance to use this strategy and average $150,000 in profits PER YEAR… for 6 years running.
This is a serious offer... For serious people only.
If that's you, then fill out the form and we'll send you everything we've promised here today.
Don't waste any time. I can only accept 250 people who want to join us today.
I hope you'll be one of the lucky ones who will get in.
You'll get an email that confirms access almost immediately.
You'll also get details on how to access everything I've promised here.
I fully believe once you join us, the way you view trading will never be the same again.
To Your Wealth,
Chuck Hughes
Founder, Weekly Profit Opportunities